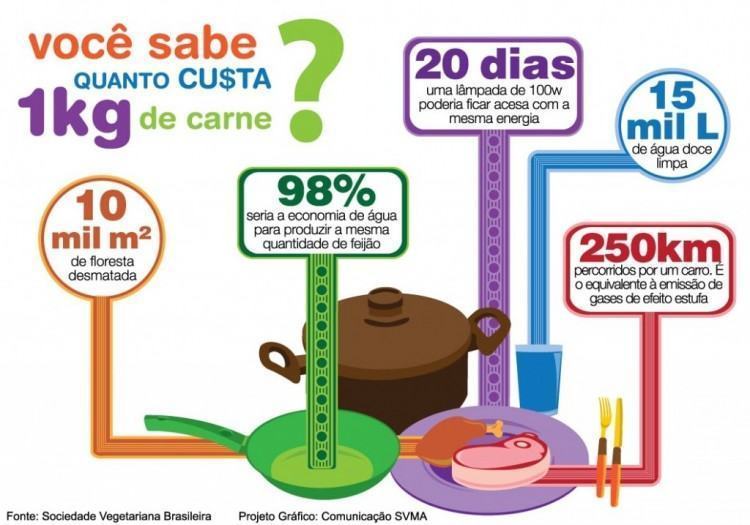 Nova pesquisa [Global and regional trends in greenhouse gas emissions from livestock] constata que as emissões de gado estão em ascensão e que gado de corte é responsável por muito mais emissões de gases de efeito estufa do que outros tipos de animais. A pesquisa foi publicada pela Climactic Change.
O dióxido de carbono é o gás mais comum quando se trata de mudanças climáticas. Ele é liberado por veículos, indústrias e remoção da floresta e compreende a maior parte dos totais de gases de efeito estufa.
O metano e o óxido nitroso são liberados, em parte, pela pecuária. Animais emitem metano como um resultado de microrganismos que estão envolvidos nos processos de digestão e o óxido nitroso é emitido pela decomposição do estrume. Estes dois gases são responsáveis ??por um quarto das emissões de gases não-carbono e de 9% do total das emissões globais de gases de efeito estufa.
A equipe de pesquisa, incluindo Dario Caro, ex-Carnegie e agora na Universidade de Siena, na Itália, e Ken Caldeira, da Carnegie, estimou as emissões de gases de efeito estufa associados à pecuária em 237 países ao longo de quase meio século e descobriu que as emissões de gado aumentaram 51% durante este período.
Eles encontraram uma diferença gritante entre as emissões relacionadas com a pecuária no mundo em desenvolvimento, que representa a maior parte desse aumento, e as emissões pelos países desenvolvidos.
É esperado que aumente ainda mais daqui para frente nos países em desenvolvimento, como resultado do crescimento da demanda por carne, produtos lácteos e ovos, que alguns cientistas estimam que atinja dobro em 2050. Pelo contrário, os países desenvolvidos atingiram emissões máximas de gado na década de 1970 e tem reduzido desde então.
"O mundo em desenvolvimento está reduzindo as emissões de efeito estufa causadas por cada animal, mas esta melhoria não vai manter-se com a crescente demanda por carne", diz Caro. "Como resultado, as emissões de gases de efeito estufa de gado aumentar em grande parte do mundo em desenvolvimento."
Das emissões de gases de efeito estufa relacionadas com a pecuária, 54% é gerada pelo gado de corte e de 17% pelo gado leiteiro. Outras emissões são 9% pelas ovelhas, búfalos com 7%, suínos com 5% e caprinos com 4%.
"Esse saboroso hambúrguer é o verdadeiro culpado", disse Caldeira. "Pode ser melhor para o ambiente, se todos nós nos tornamos vegetarianos, mas já seria uma melhora se reduzíssemos o consumo e adotássemos carne de porco ou frango em vez de carne."
Abstract
Following IPCC guidelines (IPCC 2006), we estimate greenhouse gas emissions related to livestock in 237 countries and 11 livestock categories during the period 1961–2010. We find that in 2010 emissions of methane and nitrous oxide related to livestock worldwide represented approximately 9 % of total greenhouse gas (GHG) emissions. Global GHG emissions from livestock increased by 51 % during the analyzed period, mostly due to strong growth of emissions in developing (Non-Annex I) countries (+117 %). In contrast, developed country (Annex I) emissions decreased (−23 %). Beef and dairy cattle are the largest source of livestock emissions (74 % of global livestock emissions). Since developed countries tend to have lower CO2-equivalent GHG emissions per unit GDP and per quantity of product generated in the livestock sector, the amount of wealth generated per unit GHG emitted from the livestock sector can be increased by improving both livestock farming practices in developing countries and the overall state of economic development. Our results reveal important details of how livestock production and associated GHG emissions have occurred in time and space. Discrepancies with higher tiers, demonstrate the value of more detailed analyses, and discourage over interpretation of smaller-scale trends in the Tier 1 results, but do not undermine the value of global Tier 1 analysis.
Por Ken Caldeira, Carnegie Institution / Henrique Cortez, do EcoDebate
EcoDebate, 23/07/2014
[ O conteúdo do EcoDebate pode ser copiado, reproduzido e/ou distribuído, desde que seja dado crédito ao autor, ao EcoDebate e, se for o caso, à fonte primária da informação ]
Inclusão na lista de distribuição do Boletim Diário do Portal EcoDebate
Caso queira ser incluído(a) na lista de distribuição de nosso boletim diário, basta clicar no LINK e preencher o formulário de inscrição. O seu e-mail será incluído e você receberá uma mensagem solicitando que confirme a inscrição.
O EcoDebate não pratica SPAM e a exigência de confirmação do e-mail de origem visa evitar que seu e-mail seja incluído indevidamente por terceiros.
Remoção da lista de distribuição do Boletim Diário do Portal EcoDebate
Para cancelar a sua inscrição neste grupo, envie um e-mail para ecodebate@ecodebate.com.br. O seu e-mail será removido e você receberá uma mensagem confirmando a remoção. Observe que a remoção é automática mas não é instantânea.